CS Tree Services was founded in 2003 by long-time friends, Chris Baley and Steve Kurtz.  We are a full-service, fully-insured tree company providing residential and commercial services in the Raleigh, Durham, and Chapel Hill areas. We know how important your trees are to your landscaping, property value, and quality of life.
PROMPT.
THOROUGH.
PROFESSIONAL.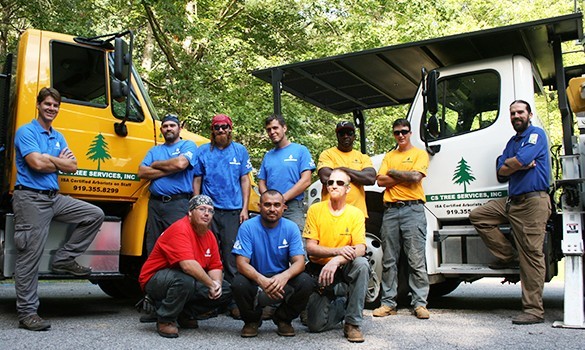 We pride ourselves on our reputation for promptness, thoroughness, and attention to detail.  Tree assessments and quotes are personally handled by us (the owners).  We have three licensed arborists on staff, and our tight-knit professional team will get your job done cleanly and beautifully. 
Training our employees and nurturing a culture of safety is our highest priority.  We believe safety and quality go hand in hand, and our customers recognize this, as they continue to recommend CS Tree Services to everyone they meet.
Growing up in Charlotte, Chris Baley and Steven Kurtz met in high school and were instant friends bonding over 4-wheeling, rock climbing, and outdoor adventure.  Chris and Steve continued their friendship and adrenaline-fueled exploits while attending UNC Chapel Hill and NC State University, respectively.  After college, they both worked in Raleigh in the computer industry up until the internet bubble burst in 2000.  As they were looking for their next step, a huge storm hit and a neighbor's tree came down.  As both guys were rock climbers, handy with chainsaws and eager problem-solvers; they offered to help.
After the tree came down successfully, they saw the potential for a tree service business.  They bought their first dump truck and gained their arborist certifications.  13 years later they have a fleet of trucks, a crane, 10 highly skilled employees, and the best tree service reputation in the Triangle area. 
They also have 2 beautiful families who are still best of friends.
Take a tour of and interact with a CS Tree worksite.

Steve, Chris and the crew are the most professional team I have worked with. I am new to the area and needed some trees cut back from the house. They did a fantastic job. It doesn't get better than this.  -Tim Marx